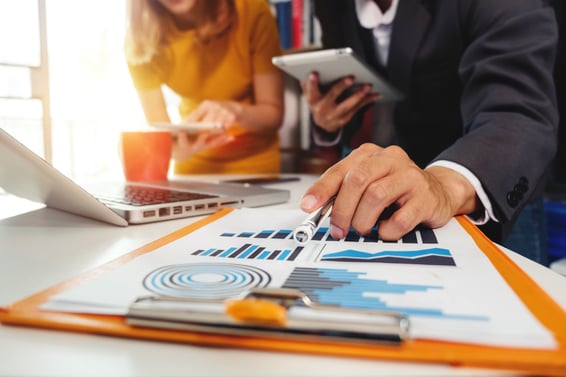 Consistently ranked as one of the best martech platforms available today, HubSpot provides a host of features and integrations for B2B marketers. Here, we take a look at why HubSpot was created in the first place, what its strengths and weaknesses are and if it's the right martech choice for your business.
HubSpot's History
HubSpot co-founders Brian Halligan and Dharmesh Shah met at the Massachusetts Institute of Technology in 2004. Sharing the belief that traditional outbound marketing methods were broken, they founded HubSpot two years later.
Halligan and Shah's goal was to help businesses market to humans - whether B2C or B2B - by attracting them with searchable, helpful, personalized content, rather than pursuing them with sales pitches. In 2009, they coined the term and literally wrote the book on inbound marketing, simply called Inbound Marketing: Get Found Using Google, Social Media and Blogs.
HubSpot pairs its inbound approach to marketing with a martech platform that includes blog and website hosting, smart content and CTAs, forms with progressive profiling, automated workflows and more. These tools, in the hands of an inbound marketer, give them the ability to meet their target buyers with the right content in the right context and bring relevance to their brand.
In the past few years, HubSpot expanded its marketing platform to include sales, adding a free CRM and a sales platform to its offerings to establish a built-in closed-loop system. Today, HubSpot is disrupting the traditional sales funnel with what it calls the "flywheel." This model puts customers at the heart of inbound marketing and surrounds them with marketing, sales and service.
The reason? As a HubSpot blog post explains it: "No matter how good, nothing you can ever write or create will be as trusted, as motivating or as influential to potential customers than what your current customers have to say about you."
To support this new flywheel model, HubSpot's next offering will be its Service Hub. The hub offers several new tools, including a universal inbox, live chat feature and chatbot builder called "Conversations" (already available as a free tool to all HubSpot customers); a new CRM feature called "Tickets" to track, order, collaborate and deliver on customers' needs and expectations; a Knowledge Base to answer common customer questions; and a customer feedback tool.
Each new offering is a testament to HubSpot's impressive growth. HubSpot's total revenue was $375.6 million in 2017, up 39 percent from 2016, according to a company press release. And it had 41,593 customers at the end of 2017, up 48 percent from the end of 2016. (Check out this podcast for more about HubSpot's growth.)
Why Marketers Choose HubSpot
HubSpot is an attractive option for companies looking for a marketing automation platform that includes a CRM, or that integrates with the one they're using now. One caveat: Companies that depend heavily on Salesforce may find that the integration between the two is not as seamless as some other platforms in the marketplace. List segmentation, for example, does not transfer between the two systems.
That said, HubSpot still ends up on multiple lists as one of the best marketing automation platforms for several reasons:

It's integrated.

HubSpot has more marketing functions connected to one dashboard allowing for more marketing automation workflows to be applied to everything from lead nurturing campaigns to sales process steps. HubSpot is also able to integrate with existing marketing tools in minutes. Whether it's your Salesforce CRM or phone tools like

CallRail

, HubSpot usually has an app for that. For other integrations,

Zapier

works well.



It's intuitive.

From beginning to end, the HubSpot platform is intuitive. Its easy-to-understand training videos, blog posts and e-books start the process, and the actual platform does the rest. Step-by-step guidance enables even a technological novice to create landing pages, post SEO-rich blogs and manage multiple social media campaigns. This ease of use means higher and faster adoption rates for both marketing and sales teams, and better results.



Its strong reports and analytics.

In a study by independent research firm Forrester,

88 percent

of marketers said they would benefit from reducing the time spent on preparing reports and analytics, which would free up time for planning strategies and focusing on customer interactions. HubSpot's customizable reports, delivered automatically, simplify the extracting and analyzing of results and demonstrating ROI.



Its reasonable pricing.

Unlike other marketing automation solutions like Pardot and Marketo, HubSpot offers lower level pricing for a couple of hundred dollars a month. HubSpot offers a basic CRM free to their clients, creating a one-stop-shop marketing solution.
The bottom line: If your company is looking for an easy-to-use, dynamic, high-functioning, martech solution that offers a complete in-the-box platform for both marketing, sales and customer satisfaction, then HubSpot should be at the top of your list.