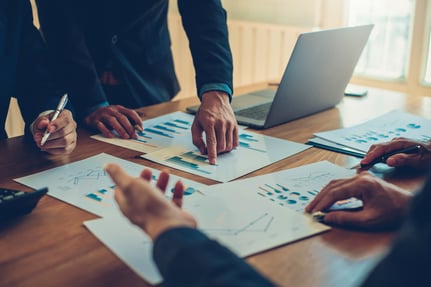 Are you reluctant to shift advertising dollars into inbound marketing? If so, you might find yourself with a lot of 'what if's.'
"What if I don't meet my performance goals for the quarter?"
"What if we don't see a return on our investment?"
To those unfamiliar with the practice, inbound marketing may seem too hyped for comfort. But when done correctly, inbound marketing is both efficient and goal-oriented. When it comes to industries like B2B technology, in particular, nothing can produce the quantity and quality of sales qualified leads that inbound can.
1. It Establishes Your Brand as a Trusted Resource
Aside from the occasional viral campaign, customers rarely ever watch ads for fun. But 62% of customers do seek content online in order to solve challenges. And, yes, sometimes even B2B customers appreciate a little entertainment with their information.
The inbound methodology involves producing relevant, helpful content that your target audience wants to engage with. Inbound marketing also means meeting consumers' where they are (often through search engine optimization) and becoming not only a thought leader but also a resource.
Consumers are drawn to this trustworthiness and helpfulness. So, even though you're always "selling" your brand and what it can do for the customer, prospects get to learn first before feeling pressured to buy. Plus, as the relationship grows, customers will naturally come to you for help with other problems or may even recommend you to others in the industry. Contrast this with most traditional marketing campaigns that must go for the hard sell or bomb on KPIs.
2. Customers Are Less Likely to Tune You Out
Society has grown increasingly averse to salesy, interruptive, and repetitive messaging. Most consumers try their best to ignore it or even block it outright. Examples of this include direct mail, TV ads, radio, cold calls, unwanted emails, and even online ads — when done in company-centric rather than customer-centric ways.
If your content reads too much like a sales pitch, then consumers are likely to tune it out. By using the inbound methodology, on the other hand, you're more likely to grab and hold the attention of your target audience.
3. It Helps You Connect with a Niche Audience
No single product or service works well for all businesses. What may be perfect for one company may be out of another's price range. Just look at our recent series on HubSpot versus Pardot versus Marketo, for example.
The B2B technology space is relatively niche, so you don't want to waste resources with lead generation activities that inadvertently attract decision-makers who wouldn't benefit from your offerings.
Inbound marketing is the answer to niche audiences because it communicates the right message to the right person at the right time. Inbound marketing strategies magnetize your brand to these ideal customers.
4. It Creates Clear Conversion Paths
Inbound-based concepts like the buyer's journey can make it seem as though it's an unfocused, vague process. But let's be clear: Inbound marketing isn't just publishing content and hoping for the best. Inbound marketing is data-driven, strategic, organized, and works to achieve the highest ROI.
As inbound marketing gleans insights, you learn more about who your prospects are, why they have shown up on your radar and what solutions they need from you.
5. Content Aligns with the Buyer's Journey
The inbound marketing framework is built around the buyer's journey, a concept that sees the sales funnel from the customer's perspective. It includes three basic stages:
Awareness
Consideration
Decision-Making
In inbound marketing, you create content for each target audience, known as buyer personas. This content reaches the customer where they are in the buyer's journey and gently but directly encourages them to take the next step.
For example, in the awareness phase, you may provide prospects with ungated content like a helpful blog post that concludes by encouraging them to download a whitepaper or case study in exchange for their email and an opt-in to your mailing list.
Once you have this information, you can directly send them consideration-oriented content that nurtures them until they are ready for the decision-making stage, where they become sales qualified leads.
Decision-making content could be sales enablement content that helps a salesperson close the deal. Sales enablement content is used by sales but should always be a collaboration between sales and marketing. It seamlessly continues with the messaging you've worked so hard to communicate in marketing. Sales enablement content is a great way to strengthen the bond, relationship, and effectiveness of the broader marketing-sales team.
6. It Improves Your Close Rates
No B2B technology company wants to lose sales qualified leads. When this happens, marketing could blame it on sales and sales could blame it on marketing. But the truth — it's neither, and it's both.
Inbound marketing helps sales and marketing communicate and work together as one united team. And this is a game-changer for close rates.
According to Invesp, this methodology has been shown to produce 54% more leads than traditional outbound practices. Inbound marketers also double the average site conversion rate, from 6% to 12% total.
7. It's Cost-Effective
Thanks to advanced marketing automation tools like HubSpot, inbound marketing is now efficiently streamlined. This factor supports consistency and can help your business achieve a higher marketing ROI.
At the same time, inbound marketing research and analytics tools make tracking customer behavior anonymously and identifiably easy, so you can continually explore what makes your target customer tick and how you can improve your methods to further increase marketing ROI.
Want to see real-world examples of how inbound marketing benefits B2B technology companies? Download our case study and learn how our client used the methodology to increase their marketing ROI 20X.